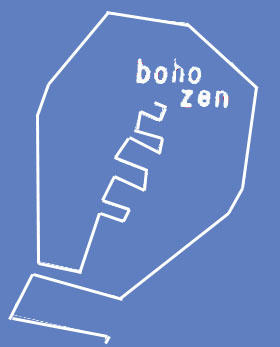 NEW ZEN CD - "THIS IS WHERE WE ARE"
Cleveland, Ohio (May 2003) - Boho Zen's Bob Walker discovered the kid who grew up in the house behind him turns out to be Don Depew, who presides over 609 Recording in Bedford Ohio, and who has played in and engineered some incredibly cool bands, such as Terminal Lovers, Guided by Voices, Cobra Verde, Breaker and New Bomb Turks. He recently played some wicked slide on the J. Mascis and the Fog disk as well.
After a few calls, Bob and fellow Zenster Howard Fencl found themselves beginning to track up twelve new original tunes with Don at 609 for Boho Zen's second full-length release. The new disk, "This is Where We Are," was self-released in May 2003. Meantime here's a look at the sessions!

credits | order a CD | links | contact | downloads