Check out Boho Zen in the April 2002 issue (# 50) of Big Takeover magazine.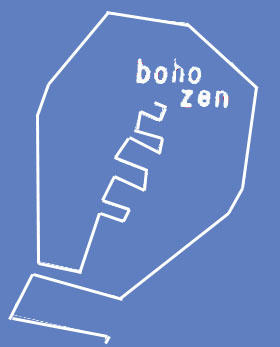 BOHO ZEN RELEASES CD, "60 WATT ROCK"
Cleveland, Ohio (2002) - Indie pop band Boho Zen have self-released their first full-length CD, "60 Watt Rock." The disk features ten new songs from Boho Zen's songwriting team of Howard Fencl and Bob Walker, and includes two bonus tracks from additional sessions with guitar virtuoso Neil Zaza. The disk is for sale via U.S mail.
The tunes range from the crunchy stomp of the title track "60 Watt Rock" to the acoustic ring of "Brilliant" - all tied together with Fencl and Walker's signature harmonies.
"It was a blast recording this project - our music has more punch, edge and versatility than ever before," said Walker.
While the group shops for song licensing and record deals, music from "60 Watt Rock" is already getting radio and TV play. WTAM-AM, a Clear Channel station in Cleveland, airs songs from the disk as part of its weekly "Bob Becker Show." Tunes from the disk are also prominently featured in the PBS affiliate WVIZ-TV's documentary, "Radio Memories."
"Another track we cut wound up in a cheesy cable TV ad with animated mattresses doing the limbo," said Fencl, "we had no idea they were that limber."
"60 Watt Rock" was recorded at Echo House Studios in Cleveland, Ohio, and mastered at The Digital Sunspot in Windsor, Ontario.



credits | order a CD | links | contact | downloads