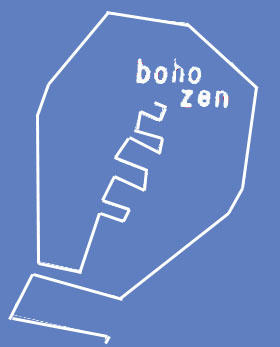 SOLO ZEN: BOB WALKER RELEASES "LITERAL"
Boho Zen's Bob Walker decided to do his own album when a lull in the band's activities beckoned towards the end of 2003. What comes from those efforts is a 15-piece concept album, about half instrumental/spoken word pieces, and the other half standard vocal pop songs. Influenced by artists as wide-ranging as Wilco, Aimee Mann, King Crimson and solo efforts by KC members (Adrian Belew, Pat Mastelotto), this CD showcases Robert's drums and vocals, and also allows him to stretch his chops on piano, keyboards, and guitars.
The CD was recorded at home and mastered by Cobra Verde drummer/keyboardist Mark Klein. "I wanted to see what could be pulled out of my home equipment, to use it to best advantage," said Robert. "The limitation of working at home is what intrigued me most about this project -- to do the best that could be done 'in the basement,' and then have a pro master all the pieces."
On sale at cdbaby.com

credits | order a CD | links | contact | downloads