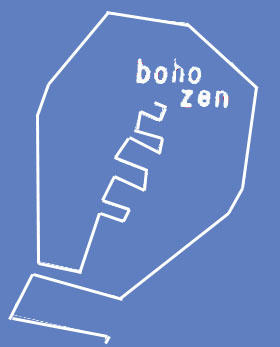 BOHO ZEN UNLEASHES NEW EP, "RELEASE ME"
Depew Coaxes Zen's Most Aggressive Sound Yet on Band's Fourth Disk
Cleveland, Ohio (August 2004) - Boho Zen's new EP, "Release Me" tears through six new original tunes recorded at 609 Recording in Cleveland, Ohio. It's Boho Zen's fourth release on its own label, "It's Yours? Music."
"All of the Boho Zen key elements - the guitars, the voices, and the songwriting - came together stronger than ever before," said Zen percussionist Bob Walker, "And we were lucky to record with Don Depew again. He's a monster talent who has become indispensable to the development of our 'sound.'"
"We wanted this EP to kick pretty hard," said Howard Fencl, the band's guitarist, "I've always been attracted to guitars that go 'crunch.' The sound of Ronson's guitar on the 'Ziggy' LP, or the guitars on Red Kross 'Show World' are always in the back of my mind when Boho Zen records."
Boho Zen has been compared to vintage XTC and the long-gone, but not forgotten band The Shoes. Boho Zen's drummer Bob Walker has been profiled in "Modern Drummer," and the group received positive reviews in "Big Takeover" magazine.
Fencl and Walker are from the Northeast Ohio music scene and have been writing and recording for decades. The duo cut their teeth gigging in power pop bands in Cleveland, and have played in cover bands since they met at age 8.
And, it turns out that the kid who grew up in the house behind Bob and used to listen to the duo practice in the garage turned out to be Don Depew, who presides over 609 Recording, and who has played in and engineered some incredibly cool acts, such as Terminal Lovers, Guided by Voices, Cobra Verde, Wayne Kramer and New Bomb Turks. He recently gigged in Germany with his reunited band, "Breaker," and played some wicked slide on the J. Mascis and the Fog disk as well.
The disk was mastered by Jim DeMain at Yes Master in Nashville. "Jim has a remarkable gift - he's an incredible mastering engineer. He makes the pieces shine, seemingly effortlessly," said Bob Walker. DeMain's diverse artist roster includes acts such as Rubyhorse, Steve Forbert and John Hiatt.

credits | order a CD | links | contact | downloads